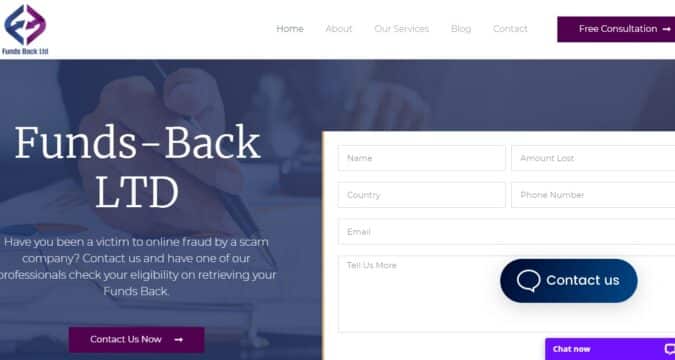 Read our Funds-back review carefully to see why we do NOT recommend this agency for chargeback help. Just to clear doubts, this is a funds-back.com review.
Funds-back Review
The feeling of desperation is real when you sign up with an online company and realize later that it is a scam. Millions of people around the world are interested in having a trading career. They all want to do this because they need an extra source of income. An extra stream of income can make your life easy and convenient. Your life is not all about managing your expenses. You have to do more than expenses – hint, savings. But when someone takes away your money like it is does not matter, you have to fight back. And that's when you need services like Funds-back.
Funds-back has done a lot of marketing on the internet. They have a great website that makes it clear for you that you can use their services to get your money back. However, there are certain shortcomings that I want to talk about in this review. The service is not as great as they portrait it to be. All I want is you to do your research before you pick a company to get your funds back. So, let's look into those shortcomings.
They Don't Have Any Records to Show
If you look at the Funds-back website, you will notice that it is all about talking and talking. They say a lot about their services, but that's the thing with just about any business of the world. Which businessperson in the world would not admire their own business? So, you have a lot of admirations of its services coming from itself. However, the company does not have any authentic proof to show you. So, in other words, anyone can create a website, put a few slogans here and there, and fill it with content that says that they can help you get your money back.
If you notice on the website, you will realize that they have some logos of the reviewing websites. These reviewing websites are known around the world for honest reviews from real reviewers. The problem with Funds-back is that there is nothing more than a logo on the website. What does a logo prove? If I put the logo of Microsoft of on my website, does that make me credible in whatever I am doing? So, before you sign up with a company to get you your money back, you have to make sure that they have some record to prove the level of their services.
It is an even more important thing for companies that are providing you such services. If a company is to fight your case in front of banks and scammers, it has to have some proof that it can get your money back. The proof lies in numbers that should show that the funds recovery service has successfully gotten the money back for these many customers. However, this particular piece of information is completely missing on Funds-back's website. This means, I am not convinced that I should sign up with it.
They Are Not Serious about Privacy
When it comes to companies that provide you financial services, such as the money recovery service, you have to be very careful with the disclosure of your information. You want to make sure that the company that you are signing up with will protect your information in every possible manner. However, in my experience of the website of this company, I did not see anything that would point to the fact that it is protecting your information in any way.
Keep in mind that you have to pay for the services of the company at some point. At that point, you have to share your banking details as well. Can you provide your banking details on the website without feeling that they will not be lost? The problem with Funds-back is that it also has an online live chat feature. This is a great feature that I think every online service provider should have now. However, they should have their own people providing this service. If you notice Funds-back, the live chat feature comes from a third party.
If you share any piece of information on this chat window, it means there is a third party that's getting access to all of it. In other words, your information is being shared with third parties without you even noticing it. In the end, you should make sure that the privacy policies of the company that you are using for getting your money back are strong and strict.
The Impression of Free Services
I hate the fact that when you first navigate the website of this money recovery service, you feel as though you are being provided with free services. The word free has been overused on the website to send an impression that you will not have to pay anything for the services. Of course, any sane person would know that there are lawyers and other industry experts involved in this particular service. They have to be paid for their services so no money recovery service can offer you their help without a cost. However, when you look at the website, you will feel that everything is for you free.
So, just so you know, when you sign up with an online funds recovery service, you are provided with a free consultation right off the bat. This particular consultation is just the company obtaining some generic information from you to know the potential of your case. After that, you have to pay them for their services. It's the same with Funds-back. You are not getting any free services. The only thing free is the first consultation that you will have when you get in touch with the company for the first time.
Final Thoughts
If you don't pay attention to these details, you should start doing that from now. It's a matter of your money and you have to be serious about it. You don't want to lose even more money by falling into a trap that looks like a portal to the resolution of your case. Always research thoroughly before picking any option, Funds-back or any other money recovery website for that matter.