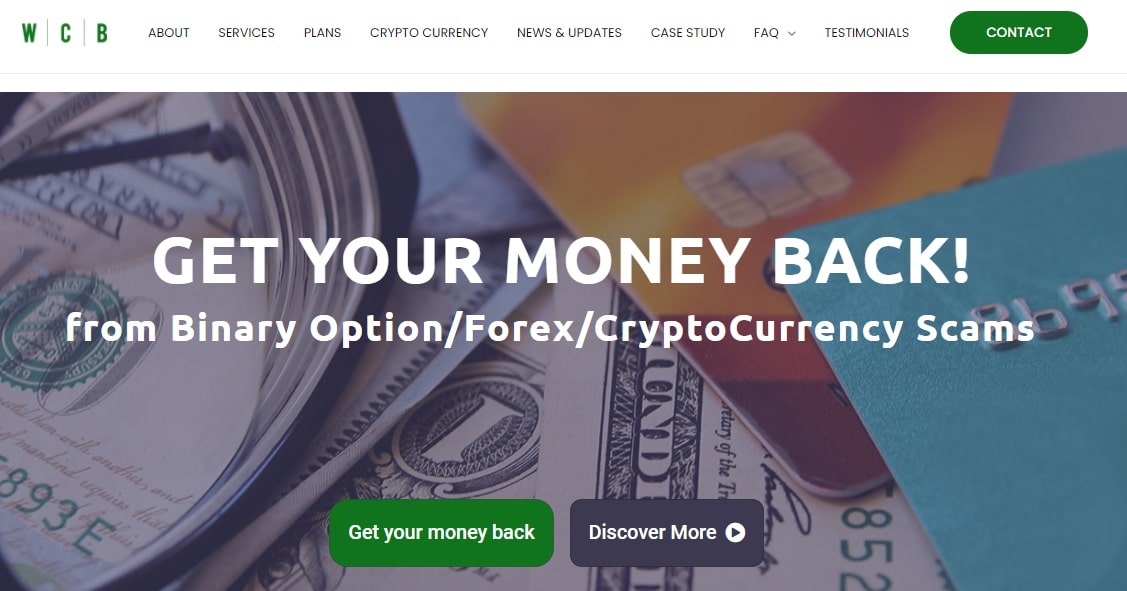 Read our Winchargeback review carefully to see why we do NOT recommend this agency for chargeback help. Just to clear doubts, this is a winchargeback.com review.
Winchargeback Review
Scams have been along for quite some time now, and have changed considerably over the years. With each passing generation of the internet, the previous generation's scams look laughably obvious. Of course, that is until the current day scams came throughout the market and have become incredibly convincing. In fact, they have become worryingly convincing and are quite dangerous.
Fortunately, many traders can rely on good recovery services to help them get their money back. One of these very well-known recovery services is Winchargeback. So if you are looking for a recovery service to help you and are thinking of Winchargeback, you might want take other factors into consideration.
What Is Winchargeback?
Winchargeback is a recovery service with its main goal being to recover money from scams. And for the most part, all recovery companies share this primary goal of recovering money back from scams. The real difference between them comes down to how they solve your case and their secondary services.
Unfortunately, Winchargeback's secondary services are not as good as you would expect. These features add a lot to the experience so it does hurt that they are not as good as they should be.
What is Winchargeback missing?
Winchargeback is fairly decent in recovering funds from scams. And saying that they are missing something would be inaccurate or even untruthful. They have all the right tools, but the tools themselves are not up to par. Simply put in terms of secondary options and features, Winchargeback is not the most optimal recovery service that you can choose. Here are some features and factors that need improvement.  
Expensive Pricing Options
One of the things that set Winchargeback apart is their price tag. Specifically, how it is more expensive than other companies. This is a common complaint among many people, even those who like their service. On the lower end, they will charge you 30% of the money that they retrieve. This can be a significant amount for some people.
In the event that they have to recover as low as $20,000 USD, they will be taking $6,000 from there. This can also increase significantly if you lost more money. Of course, if you happened to lose a lot more than just $20,000, they have a separate package for that, which you will have to ask the price for personally.
Poor Communication Methods
It is quite common for recovery companies to spend six months trying to retrieve an individual's funds. And here is where communication, especially in a recovery company, becomes very important. Six months of no response from the company can raise some red flags. Therefore, recovery companies need to make an effort to keep in touch with their clients. This can become quite difficult if there are no good communication methods in place; which is unfortunately the case with Winchargeback.
Winchargeback only uses email to communicate with their clients. Some clients can receive higher priority and can have access to a phone number, which is not enough.
Just two ways to communicate with a company is not enough for clients. Furthermore, these communication methods are not as intuitive as social media. Not only is social media free, but it is much easier to use. The poor communication tools also make it harder for people to engage in their services.
An unreasonably barrier to entry
Winchargeback sets itself apart from the industry in a number of ways. Some of these ways are smart an intuitive, whereas others can make it harder for customers to join. One of the features that sets them apart from others and distances them from clients is their barrier to entry. Unlike most other companies, Winchargeback has a price limit. So if you want their services, your lost funds should be equivalent to or higher than $20,000 USD.
This upper limit of $20,000 is too high. So unless you have lost more than $20,000 you cannot engage in their services. Seeing how people can lose an exorbitant amount of money and still not qualify for their service is not a particularly good sign.
Limited Consultation
Consultation is another service that recovery companies offer. Given the context of the customers' and the market's need, this consultation service makes sense. But some companies do not offer consultation; instead they focus mainly on recovery.
Winchargeback does not offer consultation to its customers. And while this is not a major disadvantage, it is certainly worth mentioning. Most customers expect recovery companies to offer consultation along with their primary service.
No Proper Plan
A roadmap or plan is one thing that companies will always share with their customers. These plans will show what they do and how their service will help the customer. Recovery companies will show customers how the recovery process works, and how they will get their money back.
However, Winchargeback does not show such a detailed road map. Instead, they tell customers of the broad steps they will take to recover their funds. This can leave customers in an awkward position, especially if they want to know how Winchargeback's method differs from others in the field.
Winchargeback Has a Long Way to Go
Recovery services have increased in number over the years alongside the rise of scams. But while some of them are good, others are not up to the mark. Although it is not uncommon for recovery services to have some drawbacks, Winchargeback as an overall package does not hold up.
That is not to say that they have nothing good to offer. In fact, they are quite quick when it comes to solving the case and confronting the company. They are also very quick to respond to their clients through email. And if they improve all of the other factors mentioned here, they can become one of the best in the industry. But as it stands, Winchargeback still has a long way to go before being one of the greatest.