---
How To Get Your Money Back?
Get your money back from any scam broker!
Fill in the contact form on the page in this link and you will get the help you need in order to recover your stolen money! You will be guided through the whole refund process by the customer support of a recommended scam recovery service after which a case will be opened for you by a personal case manager.
---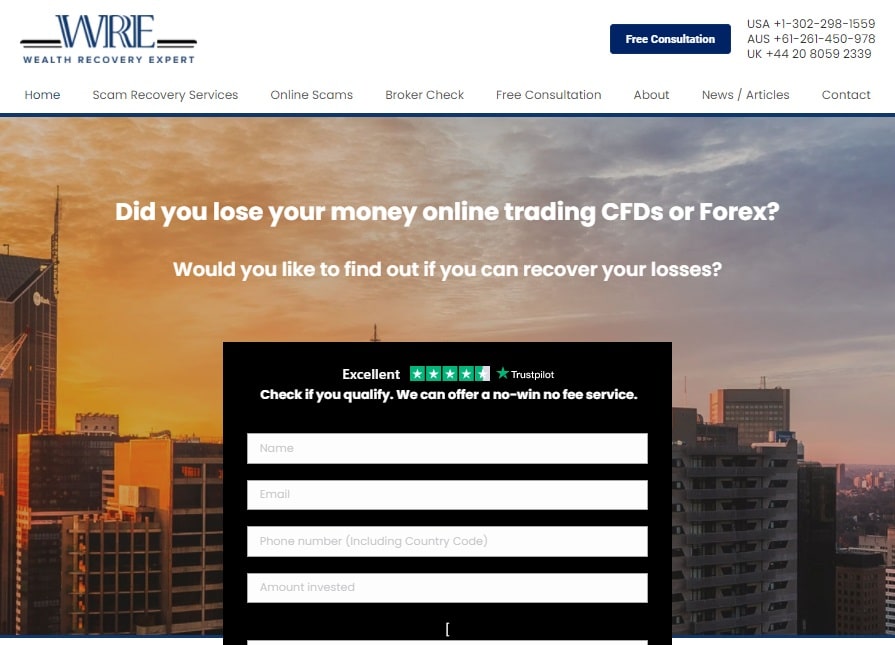 Read our Wealth Recovery Expert review carefully to see why we do NOT recommend this agency for chargeback help. Just to clear doubts, this is a wealthrecoveryexpert.com review.
Wealth Recovery Expert Review

Losing your money to a scam can feel incredibly frustrating, especially if you have been trading for some time now. But you shouldn't be very hard on yourself, seeing the rapid pace at which most of these scams have improved. In a matter of a few short years, scams have become worryingly convincing. In fact, a lot more people fall for these scams than anyone would like to admit.
Lucky for you, when you have such an issue, you can recover from your losses with the help of a recovery service Wealth Recovery Expert. However, if you are considering using Wealth Recovery Expert to help you recover your funds, you might want to consider a few things first.
Can They Help You Recover?
Wealth Recovery Expert, similar to most other types of recovery services, is one that helps get money back from scams. They claim to help you recover from a variety of different scams from CFDs to cryptocurrencies. Essentially, they offer exactly what you would expect from a recovery service and a little more.
While the service that they offer is actually quite good, that is not what the problem is. The features and factors that surround their service is what is more concerning.
Things You Should Consider Before Starting
All companies usually have some downsides that could turn away certain types of customers. But in the case, the few downsides that it does have can be quite peeving towards customers. Therefore, they are certainly worth talking about. Here are some things that you should consider before you start with Wealth Recovery Expert.
Ambiguous Owners 
Starting off with one that is quite a deal breaker for some: Ambiguous owners. Despite their many reviews to show how their many satisfied customers, the truth of the matter is that most people find this very suspicious. And they are not wrong.
You cannot find the names of their owners either on their website or other websites. While there is nothing particularly wrong with a CEO willing to stay anonymous, companies will usually have some spokesperson that gives the company a face. Unfortunately, you will not find that with Wealth Recovery Expert.
No Mention of Their Team Members
In a company like Wealth Recovery Expert, the team is the life blood of the company. Simply put, without the help their team, they will not be able to gather information or confront the company. In fact, the company itself cannot run without the help of a proper team.
Despite the team being a large part of the company, Wealth Recovery Expert does not offer any information about them. Although it is understandable if the team members want to stay anonymous, what is less so is the lack of their qualifications. It is unnecessarily hard to find out what members the team has and how much experience they have. This is one of the first things that any customer will check when considering such a service, which is why it should always be on the front page.
Lack of Proper Communication Tools
Another thing that you will have to consider before engaging in their services is the fact that they do not have a lot of communication tools available. Communication is the back bone to good customer relations, as more options allow customers to contact companies with ease.
Unfortunately, Wealth Recovery Expert takes the opposite approach. In terms of customer communication, they offer the bare minimum. The only ways that you can contact them is through their provided phone numbers and their email address.
While they do reply fairly quickly on both services, they are not enough. This is especially the case since most individuals now prefer to contact through social media. Whether they want to message or call the company of their choice, they prefer having those options. And if you prefer those options, then you might not like what Wealth Recovery Expert has to offer.
Consultation Offers Limited Services  
One of the most common services that you will find among almost all of the different recovery services is consultation. With the help of consultation, companies can provide their clients with valuable information regarding scams and how they should go about recovery. These consultation services will also cover tracking down brokers and seeing if they are legitimate or not.
However, Wealth Recovery Expert does not have consultation services that range so deep. In fact, their consultation is quite lacking in a few places. The only services that they offer is tracking down a broker and explaining how the recovery service will work. They will not offer any information about alternatives that you could use or if there are other companies like the one that you mistrusted. That is not to say that this is a major issue, as there are plenty of companies that do not offer any consultation services at all.
Still Plenty Good but a Long Way from Great
While you might have seen that there were quite few issues with Wealth Recovery Expert, they are not that bad. In fact, there are certain things that they do quite well. For example, their website features a lot of information about different types of scams and how you can recognize them. They also offer a considerable amount of information about how they will be getting your money back and how they operate. This is possibly one of their more redeeming qualities.
But when you consider Wealth Recovery Expert as a complete package, it does not hold up to other in the competition. They still have lacking consultation, poor communication tools, as well as anonymous owners and team members. All of these are issues that can be quite bothersome to customers and can raise some red flags.
In time, Wealth Recovery Expert will surely improve their service and fix all of the issues mentioned here. Bu until then, they are not as good as they should be, or as good as the potential they have. So if you are looking for a recovery service, you might want to consider another one.